Buy Our S**t!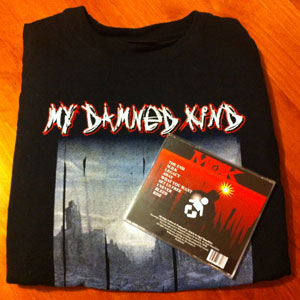 So you wanna join the My Damned Kind ranks by grabbing yourself a CD copy of 'Beyond Lies' and kitting yourself out in some mean threads? Then knock yourself out…
Or, download both albums, 'Beyond Lies' and 'Time Out', now from one of these great music stores.
CD's
Beyond Lies – My Damned Kind's triumphant debut! 9 tracks of metal gold created at whiplash studios. Get your copy now for only $20 – shipping is free in New Zealand or only $10 more for our overseas friends. Enjoy!
Clothing
Accessorise with the ultimate MDK gig shirt! Short sleeves $35, long sleeves $45, womens tank tops $35 – shipping in New Zealand is free and only $10 more for our mates over the ocean. Get yours today!